Vision   
Every student to obtain excellent guidance and appropriate ways to obtain monetary support to pursue the right education of their choice.
Our Objectives
To guide students to take up right choice of career
 To provide information about various aids like scholarships, training institutes, loans etc., to continue their education
Access to free, direct and authentic information and guidance on demand
To show opportunities to students to grow to their full potential.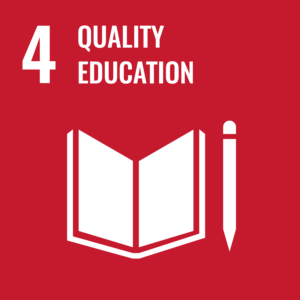 Introduction
Vidya HelpLine is one of the flagship projects of Nirmaan Organization (www.nirmaan.org) started in 2010 with a focus on career guidance to economically backward students and dropouts, especially from rural areas, enabling them to make effective educational and career choices thereby helping them achieve eventual economic empowerment.
Program Description
Vidya Helpline Program mainly runs the following services to provide quality career guidance to support students
 Toll-free Tele-Counseling Helplines: Provides information on careers, courses, scholarships, hostels, colleges, training institutes, open education etc.
Goal Setting &Career Counseling Workshops: Organize workshops at schools & colleges focusing on "How to choose career", and exposure to various career opportunities and other resources and connecting to helpline
 Career Sathi Program: A focused mentorship program for 3-6 years for students from humble backgrounds but highly meritorious
 Career Charts & Booklets : Distribute career charts and information booklets to school children and youth
 Voice and Text Messages : Provides timely updates on notifications via voice and SMS based on subscription.
Psychometric Career Tests : An online tool to assist the child in choosing the most appropriate career choice based on interest, personality & Aptitude.
 Train the Trainer Program : Organizes ToT programs for teachers so that they will in turn provide career guidance to students at deeper level and also connect them to helpline for access to more information.
 Mobi Counsel App : A mobile app which helps students to explore various career options in detail and make choices at the time of need.
Our Impact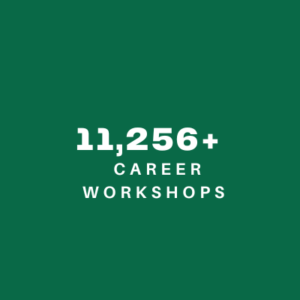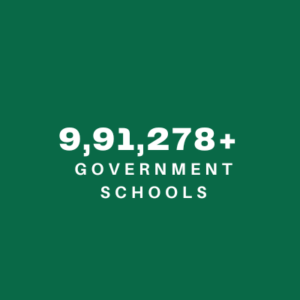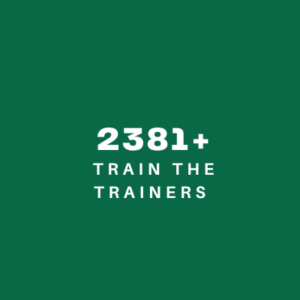 Impacted over 6 Lakh beneficiaries through all our services with operations in Telangana, Andhra Pradesh, Karnataka, Assam and Odisha (until 2016).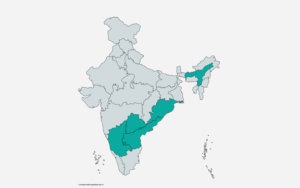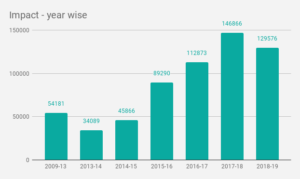 Student Testimonials
I am Chandrika. I stay in Uppal. My father is a welder. After completion of my 10th class I was confused on which stream to choose as our financial condition was not good enough to support my education. My childhood dream was to became an astronaut. Then, I met my school sir who had suggested me to approach Nirmaan Career Guidance centre to get help. There I met Srihari Sir who counselled me in taking polytechnic after polyset examination. I got seat in Govt. Polytechnic College. I am also helped by Nirmaan Career Guidance Centre in getting Scholarship of Rs. 5,000 per year for 3 years after 10th class from K.C Mahindra Group, thus helping me financially. In polytechnic college I completed my diploma and went on to write E-CET. I got 114th rank in exam and with the help of Nirmaan attended counselling for Engineering College and got admitted in top college. I am presently studying B.Tech Final year and taking Gate coaching to acheive my goal of becoming astronaut by studying M.Tech in Aerospace Department of any of IIT's. I am in debt to Nirmaan who have helped me, guided me through out my Career. Thank you
– Chandrika (B.Tech), Uppal, Hyderabad
I am Dilawar from Zaheerabad, my dad is a lorry driver, I wanted to know about free courses in hotel management. But I don't know where & how to apply. I called toll free number. I came to know about free course in hotel management at National Institute of Tourism & Hospitality Management (NITHM). Nirmaan counsellor suggested me to apply first and that I would be called for interview. I followed their guide lines & applied. They called me for interview and got selected to do the free course. After the course I got placed in 'Bowl o China' restaurant with a salary of Rs.5000. Later I wanted to pursue fire and safety course to increase my salary and approached Nirmaan toll free number again. Now I am working as a floor in-charge in Inorbit mall with a salary of Rs 15,000. Thank you Nirmaan Vidya Helpline.
– Dilawar
Team Involved
Chandrasekhar Puch
Nagesh Palla
Ram Srinivas
Srihari Raju
Vinay Kumar
Satish Pokala
Shivasai Pothulapally
Praveen Vaddepally
Ramesh Kolanthara
Suchitra Dushyanth
Major Partners
TSWREIS, Govt of Telangana
TTWREIS, Govt of Telangana
Tribal Welfare Department, Govt of Telangana
Vikarabad District Government
Ranga Reddy District Government
Mahabubnagar District Government
Adilabad District Government
Kothagudem Bhadadri District Government
Warangal District Government
Medchal District Government
RMSA, Govt of AP
APSSDC, Govt of AP
Social Welfare Department, Govt of AP
Tribal Welfare Department, Govt of AP
Guntur Municipal Corporation, Govt of AP
ITDA, KR Puram, Govt of AP
SLAC Department, Govt of Assam
IBM
Verizon
Microsoft
Nvidia
Excers
Vmware
Microsemi
Invesco
EPAM
Google
Glencore
UL
Ascendas
Deshpande Foundation
Vodafone Foundation
Samhitha Social Ventures
Global Pragathi
Komati Reddy Prateek Foundation
RG Rao Trust
Born to Serve Group
Vandemataram Foundation
ASHA
Yousee
NASSCOM Foundation
Grass Roots Foundation
HiLFE
Major Achievements
Received Award from Bharata Vikasa Sangama in December 2018.
Selected as the lead partner by Government of Andhra Pradesh for the Life Skills and Career Guidance program for the years' 2018-19 and 2019-20. The program intends to reach over 7,50,000+ students from 5351 schools across all Government high schools across Andhra Pradesh state.
Invited by UNDP, FICCI, NITI Aayog and Central government ministries MoLE & MSDE to contribute for drafting National Framework for Career Guidance in India
Recipient of grant for IBM's fourteenth Global Annual volunteer excellence award for contribution of IBM employees to further the mission of Nirmaan Organization.
Actively working with various district collectors and Government departments of Telangana state since 9 years
Recipient of High impact social impact 2017 award at a National Level by Yourstory
Winner of Mobile for good awards 2015, under education category, organized by Vodafone & NASSCOM foundation for serving the educational and career needs of the underprivileged using mobile phones and technology
Invited by Government of Assam to initiate Vidya HelpLine activities in the state of Assam as an expert partner. The project has grounded and Nirmaan acted as expert partner providing technology, training and monitoring support
Winner of Tech Camp Grand challenge organized by US Consulate and Samhitha NGO in 2013
Selected among top 15 social innovations at ISB Idiya Social Entreprise Competition
Our Presence
Vidya HelpLine has so far supported people from 7 states across India. Currently, physical centers are established in the below locations. However, our team is ready to support students and youth across the Nation as needed. 
| | | |
| --- | --- | --- |
| State | Location | Address |
| Telangana | Hyderabad | Hyderabad- 12/A, PS Nagar, Near Masab Tank, Hyderabad-500048 |
|   | Nizamabad | Rukmini chambers, Mahalaxmi Nagar, Vinayak Nagar, Nizamabad, Telangana 503001 |
| Andhra Pradesh | Guntur District | No. 78, 3rd floor, Infosight Building, Paathuru Road Junction Survey, 2, NH 16 Service Rd, Tadepalli, Andhra Pradesh 522501 |
| Karnataka | Bengaluru | Nirmaan Organization, H.No 547, 10th A Main, 38th Cross, Jayanagar 5th block, Bengaluru-560041 |