Vision
Aim to bridge information gap in the employment ecosystem and integrate the three stakeholders – the job seekers, trainers and employers leveraging ICT.
Our Objectives
 Support youth in making informed career decisions as per their interests, skill sets, industry requirements and growth prospects
 Sensitize families and communities of beneficiaries about the need for involving women in economic activities
 Reduce the demand-supply gap for skilled manpower
 Reach the last mile beneficiaries through use of ICT.
Introduction
Yuva Disha is an end-to-end service provider for youth in need of employment, integrating under it a host of services to cater to the requirements of unemployed youth.
Program Description
Key Features of Yuva Disha Program
 Aptitude and Skill Assessment: For all the candidates who approach Yuva Disha, psychometric and skill assessment tests shall be the first step. Every job sector and job role will have an employability index assessment tool. Candidates will be administered this tool and they will be assessed for their suitability for a job role and/or sector. Depending on the results, the candidate will be directed to skill development centers or contacted for placement opportunities.
 Personalized Job/Career Guidance and Counselling: Well trained and experienced counsellors will aid the youth to choose suitable careers based on their interests, skill sets, industry demands and growth prospects. This will also include counselling services for those who wish to transition between careers. A further extension will be counselling for job/career related issues. Nirmaan's counsellors will, apart from center based counselling, will travel to places within 70 kms of Hyderabad to reach out to rural youth.
 Skill development/training extension: The aim of this service is to bridge the skill gap between the current industry demands and the skill levels of the job seekers. Our employment exchange centers will maintain a list of skill development and training institutes and we will link youth to these institutes as per their skill requirements. Additionally, we will also share the occupational standards set by NSDC sector skill councils and insights from employers with skill development institutes to further orient their courses to market requirements.
 Placements extension: Our employment exchange will maintain a well-researched and updated database of all the available job opportunities and direct the youth to such opportunities as suitable. This shall also include other value-added support services like work readiness workshops, resume building, mock interviews, pre-selection etc.
 Government Initiatives: The project relies on existing infrastructure for its successful implementation and functions to connect all the stakeholders in this ecosystem. It supplements government schemes and initiatives by creating awareness and mobilizing youth to take advantage of such options. Additionally, it will follow the occupational guidelines set forth by NSDC Sector Skill Councils in implementing its employability index hence contributing towards establishing a common benchmark.
Key Services
 Toll Free Tele-Counselling : A toll-free helpline (1800-599-2426) will provide on-demand information and facilitate job counselling for the youth
 Employment Exchange Center : The center will act as field office to gather location specific information on job vacancies, training institutes / programs, govt. schemes, conducting marketing activities and counselling
 Workshops / Job Melas : Encourage youth to participate in various job awareness, soft skills, capacity building workshops and job melas occurring in near by areas.
 Mobile Application : All the services provided by Yuva Disha will also be made available in the form of mobile application.
Our Impact
Impacted 2200+ students over the past 3 years.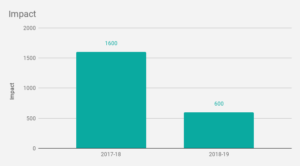 Student Testimonials
As everyone of us are aware that in Muslim community, they don't allow girls to even step out of their home for studies or job, same was happened with me too. I was very much interested in studies and building my own career. My family consists of 7 members. My father is a plumber and hardly earns 10000 Rs – 12000 Rs per month which is not at all sufficient for all our needs. I have completed my intermediate in 2017 and wanted to study further but couldn't study because of financial crisis and was idle for an year. I convinced my father to take up a job. Later, I approached Yuva Disha for job opportunities and in the first interview itself I got selected as a customer care executive in Techmovva Solutions at SR Nagar and now I am able to earn 8000/-per month and support my family.
– Juveriya Fathima, SR Nagar
Team Involved
Uma Kesani
Moulana
Jyothi Dosapati
Major Achievements
 Setup the toll-free number, 1800-599-2426, for catering to youth in Hyderabad area
 Established the 1st Employment Exchange Center at SR Nagar, Hyderabad
 Prepared Skill Level Assessment parameters as per NSDC for 10 sectors
Recent Activities
 Conducted workshops for vocational training (IT) students, beautician students and tailoring students.
 Participated in various Youth melas and Job melas and recommended youth for placements in established companies