Program Description
August 2018 saw massive destruction in the southern state of Kerala due to torrential rains and the subsequent flooding in all districts of the state. Families affected by flood in these areas mainly include small farmers, daily wage earners, blue collar workers. When the floods came, people fled their homes with just the clothes on their backs. As the water receded and people started getting back to their homes, they realized that many of their belongings including documents, utensils, clothes have washed away in the water or completely damaged, in some instances, utilities and appliances were gone too. They are now left with only bare walls.
Nirmaan, as a part of our Operation Sahaaya, worked actively on flood relief for most affected villages, mainly in Thrissur & Ernakulum districts of Kerala. In these areas, govt. and individuals have supported with food items, we supplemented those efforts through utensils, stove, clothes etc. With relief kits, people were able to move beyond the basic survival requirements of 'Roti, Kapada, Makaan (Food, Clothes and Shelter) and start to work on bringing their lives back to normalcy. Through the support of ADP India, Gulf Oil and Vodafone India, we were able to distribute 3546 relief kits to families.
Additionally, we also worked in 10 schools in Ernakulam and Aluva districts to provide infrastructure support to government schools which were heavily damaged by the recent devastating floods in Kerala. Through this support, the school will be able to provide quality education to students in a conducive and safe learning environment. Depending on the needs of the specific schools, we took up activities like restoration of compound wall, toilets, classroom and office furniture, playground development, school uniforms, student stationery etc. This aid was provided to the following schools through the support of our donors.
List of schools where we supported infrastructure development activities
| S.No | School Name | Location | No of students | Supported By |
| --- | --- | --- | --- | --- |
| 1 | Paliam Government High School | Chendamangalam, Paravur Taluk | 154 | ADP India |
| 2 | Government Higher Secondary School | Kuttamassery, Aluva Taluk | 660 | ADP India |
| 3 | Government Lower Primary School | HMT Colony, Kalamassery Municipality | 100 | ADP India |
| 4 | P.S.M Government Lower Primary School | Puthenvellikkara, Paravur Taluk | 235 | Wells Fargo |
| 5 | Government Lower Primary School | Puthiyakavu, Paravur Taluk | 121 | Wells Fargo |
| 6 | Government Mohammedan Lower Primary School | Vadekkekara, Paravur Taluk | 50 | Wells Fargo |
| 7 | Government Lower Primary Boys School | North Paravur | 86 | Wells Fargo |
| 8 | Government Lower Primary School | Pattanam, Paravur Taluk | 59 | Wells Fargo |
| 9 | Government Lower Primary School | Chalaka, Paravur Taluk | 106 | PepsiCo (through Charities Aid Foundation) |
| 10 | Government Lower Primary School | Thiruvanvandoor, Chengannur Taluk | 50 | Individual Donors |
Key Activities
 Distribution of students kits to children affected by floods
 Distribution of relief kits suitable for their earlier profession
Our Impact
We were able to impact 5167 families and students in Kerala through various relief kits and school infrastructure and education kit distribution activities.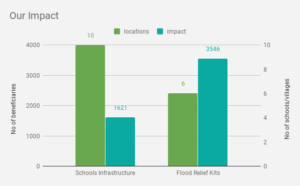 Success Stories
In this time of need, our school received help from many good people & institutions. Two such institutions which helped the maximum in the rebirth of our school are Wells Fargo and Nirmaan Organization.
– Mr. Sadath KA, SMC Chairman, GLPBS, North Paravur
Our school is almost 106 years old. During the floods which occurred last year the school, students and teachers, all faced the devastating consequences. With funding from Wells Fargo, Nirmaan Organization provided all facilities including desks, benches and other facilities needed for a school. I express my gratitude to Nirmaan & Wells Fargo for the same.
– Ms. N V Chandraprabha, Headmistress, GLPS, Puthiyakavu
Team Involved
Swati Vempat
Major Sponsors
Wells Fargo
ADP India
Gulf Oil
PepsiCo (via Charities Aid Foundation)
Vodafone India
Major Achievements
 Distributed 3546 relief kits to those many families and restored employment opportunity in the face of severe floods