Introduction
Project AVANTI (Women Skill Development Program) was developed in 2010 with an aim to provide skills and build confidence of women from economically weaker families, thereby leading to their economic and social independence. Having a vision for holistic advancement of a woman, AVANTI has prepared an integrated approach for support through 'TRAIN – TRANSFORM – TRIUMPH':
 TRAIN : Train women on various market-oriented courses
 TRANSFORM : Conduct life-skills workshops on multiple aspects along the lines of social, personality and career orientation like financial literacy, health & hygiene, child care etc.
 TRIUMPH : Hand holding women during job placement and market linkages and support them post training as well with periodic review.
Program Description
Before initiation of the project, a detailed need assessment and area mapping will be carried out in and around the target location, this data will form the baseline for the long-term project planning. The Women Skill Development Center will conduct 3-month training program for women from financially constrained families. The selected women beneficiaries can choose to be trained in vocations including but not limited to tailoring, embroidery, bag making, beautician and the like.
The training shall be carried out daily by experienced faculty as appointed by Nirmaan. The selected women beneficiaries will undergo training daily from 10.00 am to 4.30 pm. After the completion of the training program, the beneficiaries will be assessed by a third-party examination and would be provided with certificates after successful completion of training.
Apart from the regular training program, the women would be trained on various income generation programs and value addition skills, by organizing different workshops and learning sessions.
Key Activities
 Mobilization : Various awareness generation activities will being conducted in the community before the start of each course
 Interviews : Rigorous selection process is carried out to identify the correct beneficiaries of the project. Selection criteria such as willingness to travel and work, below-poverty line factors are being considered during the interview process
 Training : Training will be being imparted in multiple market oriented courses, i.e., tailoring, beautician and basic computer skills. Duration (3 months) and timings will be as per women's feasibility. Certification will be provided on successful examination
 Workshops : Various workshops will be conducted twice a month to create awareness about various topics like life skills, health and hygiene, relevant exposure visits etc.
 Placement Support : Placements are being arranged regularly and efforts are being made to build a network of relevant and potential employers for placing women. Women are being supported through various workshops to prepare themselves for interviews like mock interviews, workplace readiness etc. Follow-up with women after 6 months and 1 year
Our Impact
Impacted 5000+ women through 6 Women Skill Development Centers across Hyderabad and Pune.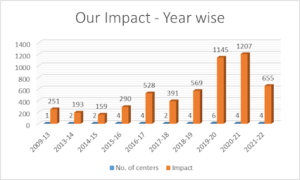 Success Stories
Sunitha is from a middle class family. She has completed degree. She is very passionate about fashion designing. Her family has a few financial constraints, so she thought about taking a course and doing a job. So, she approached Nirmaan for a tailoring course. After 3 months of training she got placed in Niddle Kraft with a salary of 6000 rs. Now she is earning and supporting her family. She conveyed her thanks to Nirmaan and ADP for this support.
– Sunitha (Tailoring Course Graduate), VTC Borabanda
Ms. Sana Munzareen, was born in Karnataka and completed her Intermediate. Later, moved to Hyderabad in search of Job. In spite of belonging to Muslim community, where there are many restrictions on a girl to step outside and do a Job, Sana decided to support her father, who is a vegetable vendor.
She joined Nirmaan VTC center and completed her ITES training and got placed in Sun Power Solutions Pvt.Ltd but lost her job due to COVID pandemic.
When she re-approached Nirmaan team for re-employment, our team supported her and replaced her at EPayLater as Sales Executive. She is currently working at Metro Wholesale, Kukatpally. She is thankful to Nirmaan – HSBC for all the support provided.
– Sana Munzareen (Basic Computer Course Graduate), VTC Fathenagar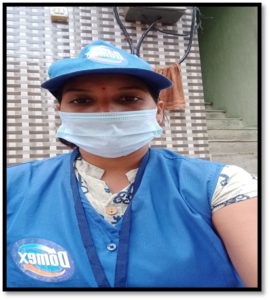 Reena Yevkar:- Her Husband lost his job in the previous Lock down So the whole responsibility comes on her shoulder That's why she has big interest in doing job and also start her own Shoppe so she can take care of her children. She wants to start her own Shoppe but she don't have money so she is doing a job in Med plus but she is taking beauty parlor practice at home and trying to earn money. She is earning 10,000 per month. She is saving that money for her child's education. She helped to give info about more jobs, Med plus or other places.
– Reena Yevkar (Beautician Course Graduate), VTC Pune
Major Sponsors
| | | |
| --- | --- | --- |
| HSBC | ADP | Arcesium |
| Synchrony | Cyient | |
Major Achievements
5388 Women trained and 3715 placed in various Jobs / Own Businesses and Home based Units with an average salaries of 15000/- PM in all the VTC centers.
Recent Activities
 Organized workshop by ADP volunteers on Marketing and Sales at VTC Borabanda
 Industrial visit to Charminar for maggam course trainees
Corporate visit to HSBC Corporate office for basic computer course trainees as part of exposure visits
Stress Management workshop by Makro Foundation