Introduction
Currently there are 5 active probono chapters across the country
| Chapter Name | Team | Contact Email Address |
| --- | --- | --- |
| BITS Pilani (Pilani Campus) Chapter | Harshal Sharma | bitspilani.president@nirmaan.org |
| BITS Pilani (Goa Campus) Chapter | Pranav Ghag | bitsgoa.president@nirmaan.org |
| BITS Pilani (Hyderabad Campus) Chapter | Chandrahas Jandhyala | bitshyd.president@nirmaan.org |
| BITS BKBIET (Pilani Campus) Chapter | Komal Jangir | bkbiet.president@nirmaan.org |
| Vizianagaram Chapter | Jai Krishna | NA |
Program Description
The students across all the four chapters extend their support in the community development by executing a wide range of activities catering to the needs of children, women and senior citizens.
Nirmaan Organization had a very impactful year 2018-19 as all the student chapters have been very eventful and engaging throughout the year. It encompassed operations in the fields of Education, Health, Participative Community Development, Women Empowerment, etc. which includes Tuitions to the underprivileged children, arranging Health Camps, Food Clothes distribution in the communities, stationery kit distribution at schools, celebrating events at schools and nearby communities, visits to the old-age homes and orphanages, etc.
Our Impact
Until now 11507 people have been benefited by various initiatives of different teams managing the student chapters.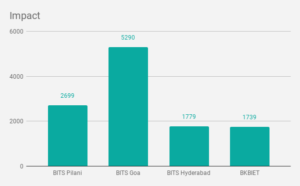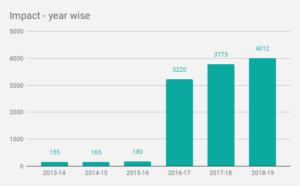 Recent Activities
 Participated in MANTHAN, Annual NGO Summit Started with the aim to increase exposure and provide a platform to discuss and learn from the participating NGOs on various topics of relevance, the annual summit witnesses participation from both NGOs​ and ​student chapters​of reputed colleges with similar issues and situations to handle. Manthan has led to the introduction of various new initiatives in our chapter over the past years, which in itself is indicative of its success.Topics of great relevance in the current demographics like creating livelihood opportunities to ​preservation of cultural heritage were wholeheartedly discussed and debated upon. With participation from organizations with huge field experience, there was a lot to learn for the student chapter members.
 Joy of Giving Week Based on the theme "Turn the Frown Upside Down", "Joy of Giving Week" or "Daan Utsav" or "Festival of Giving" is held in all the BITS Pilani campus every year, a unique, week-long festival of giving- money, time, skills or resources, thereby fulfilling people's wishes. A plethora of events are held ranging from visits, clean up drives to fun filled activities. These events witnessed participation from all age groups. From children, students, faculty members, supporting staff, adults to the elderly, this week had something for everyone."Joy of teaching": In this event kids from nearby slums and villages were taken to the BITS library, Sky Lawn and Gandhi Statue. BITSians, PHD scholars and Professors were invited to give small lessons to the kids. Director of BITS also took part in this event."Joy of Serving", an event wherein the mess workers and students interchanged their roles as they experience the joy of serving the mess workers, housekeeping staff, security personnel, gardeners. Various fun activities were also conducted for their recreation.
 "Ignite": the socio-fest It started as an educational project to provide exposure to the kids from orphanages and other NGO homes, today it has turned into a three-day fest of joy and fulfilmentEvery year around ​350 ​kids from ​15-20 different orphanages are accommodated in BITS Hyderabad campus. The event is held for 3 days, wherein various workshops, activities and programs for the kids of various age groups are conducted. Over the past 8 years over 3000 kids have benefited from this initiativeIgnite'19 was held on ​8th​, 9​th​, 10​th ​Feb 2019​. It witnessed workshops from team "​Toys from Trash" ​ from ​IUCAA, Pune​. Around ​300 kids and ​15 different orphanages participated in the fest, which received great support and appreciation from administration & community members of the campus.
 Udaan 2019 On 23rd February 2019, the volunteers of Nirmaan successfully organized Udaan in association with Spree – the sports festival of BITS Pilani Goa Campus. Udaan is a sports festival for the differently abled children across various schools in Goa.  This was the third edition of Udaan since its inception in 2017. The event was organized for students with physical and mental disabilities. Udaan 2019 witnessed participation of over 150 students from 4 different schools from Goa. It was held in collaboration with Special Olympics Association Bharat – Goa and Paralympics Association of Goa.The event took place in two phases. The morning session began with different categories of judo and in the afternoon session, fun games, activities and dance were a warm up for the children. Sports such as football, softball, bocce and athletics followed. The event came to its conclusion with the prize distribution ceremony. The ceremony was graced by chief guest Prof. Dr. G. Raghurama, director of BITS Pilani who conferred medals and certificates upon the winners. He praised the participants as well as the volunteers for making this event a phenomenal success