Updates
We are pleased to update you that today (8th May) we handed over 25 Oxygen Concentrators, which can support 40 beds, to the District Hospital, King Koti. We appreciate your contribution and this wouldn't have been possible without your support.
In addition, we have 50 more OCs, which support 100 beds, set to be delivered by 14th May. Due to supply constraints, we are getting the next set of concentrators in a phased manner. We have soft locked the order for 100 more OCs, which will be shipped as soon as we complete our fundraising.
Hyderabad needs Oxygen has now raised 90 lakhs and we require 40 lakhs more to reach our target of 200 Oxygen Concentrators. We need your support in this last leg to reach our target.
We have received much needed support from individuals and institutions alike. Our team has been working hard and fighting fires on various fronts to achieve our target of saving as many lives as possible. Even a small act of generosity will help in achieving this target.
Program Description
Telangana's daily infection count rose to ~7500 cases with a positivity rate of ~10% as of 30th April'21. The virus spread continues to be high in the Greater Hyderabad area with over 1,000 positive cases being reported every day for the past 14 days, and anecdotal evidence suggests potentially larger caseload on the city's medical infrastructure. 6 days ago we realised that we simply cannot stand by and do nothing and 700 people have felt the same way.
Having consulted doctors, hospital administrators and government officials, we realised that "Oxygen Concentrators" were the need of the hour. They help reduce the stress on medical infrastructure by helping recovering patients with mild oxygen assistance and provide short term relief to patients facing sudden acute drop in oxygen saturation levels allowing hospital administration to locate a ventilator .
"Hyderabad needs Oxygen" was born to address this need. Nirmaan. org along with a group of BITS-Pilani alumni quickly stepped up their efforts to work on procurement, logistics, research, communications, demand assessment and distribution.
As part of the Phase-1 of our initiative we are proud to announce that we have raised Rs 51 lakhs from close to 700 donors spread across India, US, UK, Singapore, Germany, among other countries.
With the proceeds we have placed a purchase order for 100 oxygen concentrators (75x 5lt/min and 25x10lt/min) which are set to arrive in Delhi starting 3rd May.
Indigo cargo agreed to assist by airlifting the oxygen concentrators from Delhi to Hyderabad for same day delivery
Hyderabad District Collector and Nirmaan.org have identified 7 government hospitals which have an urgent need namely 1) King Koti District Hospital 2) Chest Hospital 3) Fever Hospital 4) Area Hospital Malkajgiri 5) Area Hospital nampally 6) Area Hospital Golconda 7) Area Hospital malakpet
"Hyderabad needs Oxygen Phase -2"
While we are sticking to our original target of setting up 200 oxygen concentrators in Hyderabad. We still require additional donations. As part of Phase 2 we hope to secure Rs 65 Lakhs in donations to provide 30x 10Lt/min and 70x 5lt/in oxygen concentrator which will support an additional 150 oxygen beds.
What do we need from you ?
1) Continue to Donate & Spread the word
Please leverage your networks and other contacts to spread the word
2) Help On-board Nirmaan in your company's matching program
Nirmaan, is a registered not-for-profit, established by students of BITS Pilani in 2005. Nirmaan has been doing a fantastic job on the ground since wave 1.Matching program will help you amplify the impact for your donations. Please contact us below for any information.
About the Machines :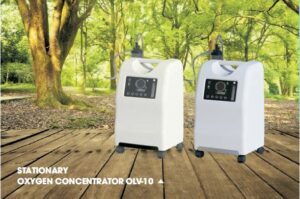 OLV10 :
 Name: OLV10
 Capacity: O2 Capacity of 10Lt/min
 High oxygen purity: 93% ± 3%
 Dual flow: Two patients can use the machine at the same time.
OLV5A:
 Name: OLV5A
 Capacity: O2 Capacity of 5Lt/min
 High oxygen purity: 93% ± 3%
Team Involved
Gopi Vudaru (+1 (309) 287-8382)(USA)
Mayur Patnala (70930 01514)
Mounika Konatham (72073 57854)
Uma Kesani (70939 99039)
Swati Vempati (99618 71112)
Sai Rama – BITS Coordinator (96668 15475)
Praneeth (9951749409)
Venky (9666818611)
Anshool Singhi (9030707981)
Avinash Reddy (9640437718)
Dheeraj (9701069659)