Heavy rain has caused havoc in Telangana, Andhra Pradesh, Assam and Maharatsra. In the state of Telangana, Kothagudem district 7 mandal's are affected due to Godavari floods. Particularly, areas like Kashi Nagaram, Sunnam Bhatti, Sarapaka, Sunadaraiah Nagar and Burgampadu villages suffered heavy damage in terms of property loss.
Several people have lost their houses, furniture and vehicles. People have also lost their household goods and livelihood. They now face acute shortage in terms of food.
Places like Kashi Nagaram, Sunnam Bhatti, Sarapaka, Sunadaraiah Nagar and Burgampadu villages are flooded. In these places many houses and vehicles have also been damaged. Some parts have also faced the consequences and are now facing severe drinking water problems. Considering the fact that this critical moment needs humanitarian aid, at that time Nirmaan immediately undertook some relief extended support in terms of immediate support (as an emergency need).
Survey for flood damage analyses: A survey was carried out to compile a damage assessment report, to understand the scale of destruction and kind of inputs needed for the disaster relief and rehab work.
Following parameters was taken under consideration while surveying the disaster affected families:
1. General information about the affected family (unique ID, no. of members in the family) no. of property (houses, furniture, utensils)
2. Loss of machinery and vehicles
3. Immediate support needed for them to regenerate livelihoods – sewing machine, fishing nets, 3 tire rickshaw, a herd of lambs and agriculture equipment and back to school kits.
Depending on the kind of losses which the families have suffered due to Godavari flood, the further relief and rehab work has been planned out and the compensation package has been fixed on approximation basis.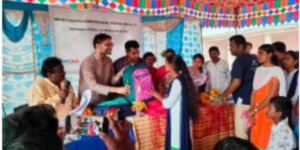 INFOSYS FOUNDATION has come forward to support these families by giving relief and back to school kits, ration and hygiene kits with daily use utensils were distributed to 720 flood-affected families and 1665 back to school kits where distributed to 33 primary and high schools in the Kothagudem district, 7 flood affected mandals on August, 2022, of Kashi Nagaram, Sunnam Bhatti and Sarapaka Village's Dummugudem and Borgampadu Mandal, Bhadrachalam District. Nirmaan flood response team participated in the distribution event supported by Infosys Foundation.
Kashi Nagaram, Sunnam Bhatti and Sarapaka are one of the first villages which got completely submerged during Godavari floods making it completely isolated as the roads leading to the village got cut-off. The main occupations of the Sunnam Bhatti villagers are agricultural laborers and fishermen. The houses are mainly thatched huts which completely collapsed during the floods rendering villagers completely homeless forcing them to shift to nearby relief camps.
Local volunteers participated in the distribution event thus making the event successful. We thank Infosys Foundation leadership for helping the flood-affected families. As the Godavari river levels started reaching the danger mark, the roads leading to the village got completely submerged making the boat, the only travel medium for team Nirmaan to reach village for the distribution event.